About Aqua Premier
Aqua Premier is a refreshingly different, naturally convenient car wash concept designed specifically to provide state-of-the-art carwash technologies combined with a commitment to the environment. We are proud to provide a bio-reclamation system that is eco-friendly and recycles water to have 80% less water waste than a typical car wash. We use the clean bio-reclaimed water in normal wash cycles, and 100% fresh water in the special application and rinse cycles to give you the best of both worlds. Washing your car regularly with Aqua Premier will not only keep it shining, but will also improve it's overall value and life–all while preserving our community's natural resources. Our facility is open around-the-clock for your convenience, and is kept well-lit and incredibly clean at all times, so visiting is always an enjoyable and rewarding experience.
About Bio-Reclamation

Aqua Premier uses cutting-edge technology to filter contaminants from each wash and produce clean, crisp, recycled water for every customer–saving water and protecting the environment at the same time. Few things feel as good as driving in a freshly cleaned car–but now you can experience the feeling of ultra-clean and eco-friendly all in one! Watch our brief video on how our bio-reclamation system works.
Options

Aqua Premier provides a variety of advanced car washing solutions for our customers. From touchless washes that use advanced water jets, to soft-touch washes which use our velvet-like microfiber brushes, and even self-service bays which put the washing back into your hands without the dirty runoff, we offer something for everyone. Give your car the personal care and attention it needs to truly shine. Choose from our Basic wash, Classic wash, or Premier wash options for your vehicle.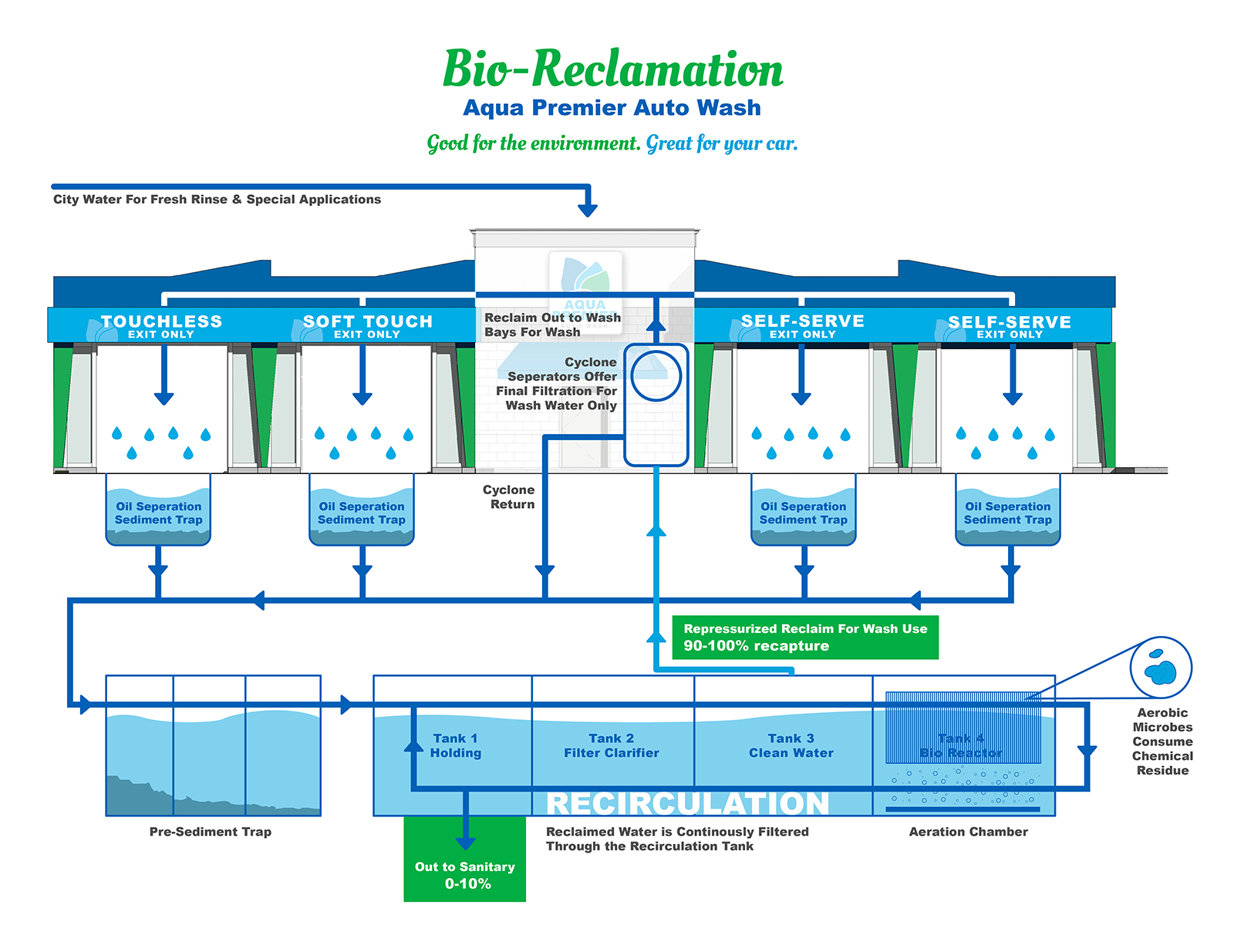 Green Process
Aqua Premier uses the eco-friendly technology provided through our bio-reclamation system to recycle water after every wash and create 80% less water waste than a traditional carwash. We do not use reclaimed water for our spot-free rinse or our clear-coat protection, so that your vehicle gets the benefit of both reclaimed water and fresh water rinses every wash. We believe that the concepts of clean and green should be able to go together–and that is what our refreshingly different process is all about!

Services
At Aqua Premier, we pride ourselves on offering a variety of carwash services for our customers, from touchless and soft-touch washes to self-service washes and vacuums, your car will never look better. Our cutting-edge equipment adapts to the profile of your specific car and adjust its performance accordingly, and uses both filtered recycled water for washing and fresh water rinses for the best clean possible. Our high-pressure wheel cleaning system ensures that you never have to leave a carwash with dirty wheels again, and our powerful air-dry system uses additional horsepower to ensure that you can say goodbye to dried-water streaks for good.

Touchless
Envelop your car in an ultra-gentle wash with our touchless bay, which uses advanced water jet technology to get your car clean without the use of brushes or rollers.
Soft-Touch
This wash uses gentle, velvet-like microfiber brushes and rollers to clean your car softly but thoroughly. Our cutting-edge equipment allows the brushes to adjust their pressure based upon your car's exact make and model, and clean the brushes thoroughly between each use.


Self-Service
Keep car washing in your hands with an added personal touch while avoiding soap and chemical runoff on your property and their hazardous effects on the environment. Use our specially-designed self-service bay, which will recycle and filter the water used while you wash.
Washes
No matter which type of wash you choose, your vehicle will look great while saving water–and that's something to feel good about!
Choose from our Basic wash, Classic wash, or our premium Premier wash.

Prepaid Wash Books
Give the gift of multiple cleanings at a discounted rate with Aqua Premier Prepaid Wash Books! These Wash Books contain pre-purchased washes in groups of 6. Purchase 6 Basic, Classic, or Premier washes next time you visit and save big! They make great anytime gifts for family members, friends, employees, or even yourself—just scan and use whenever convenient! 
Available for purchase on-site!
Fundraising
Our surrounding community is important to us. You support us, and we appreciate the opportunity to support you in return. Traditional community carwash events are bad for the environment because of the runoff they produce. Avoid messy clean-up, recruiting volunteers, and coordinating carwash events by putting the focus instead on raising money for your organization and leaving the car washing to us.
A percentage of the profit from each carwash gift card sold will be donated to your cause. We will provide all of the promotional materials for your organization. Please contact us for information on fundraising opportunities anytime. We look forward to hearing from you! 

Contact Us
Our customers and community support us, inspire us, and help us succeed. We value your thoughts and opinions, and genuinely enjoy hearing from you. If you have comments, questions, or general inquiries, send us a note through the contact form below. Thank you!